ANGELS OF MUNICH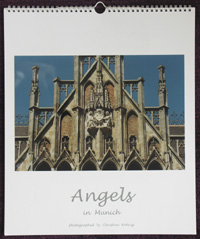 Perpetual calendar, size 34x40 cm,
13 original high gloss photos, 18x27 cm
€ 49,--

All photos for this calendar were taken with an analog reflex camera, with no digital retouching.
Each photo is hand signed by the photographer.
The photos are ideal for framing. The printing of the written parts within this calendar
was done by a professional training institute for young people with hearing and speaking disabilities.
All photos within this calendar are available as cards,
with and without poems and also as framed pictures in different sizes.
Löppert
Optik-Foto-Dia GmbH
Waldfriedhofstr. 91
81377 München
Tel.: 089 / 714 23 70
www.loeppert.de

Berufsbildungswerk München
Musenbergsstrasse 30-32
81929 München
Tel.: 089 / 957 28 4123
Fax: 089 / 957 09 63
www.bbw-muenchen.de